Well, that was fun!  I will try to share some of what I heard from our visiting Scandinavian authors, now that I've had a good ten days to recover.
Unfortunately, Kristina Ohlsson was unable to attend, having caught a bad cold. It's never a good idea to fly overseas when you're sick, so while we were sorry to miss her,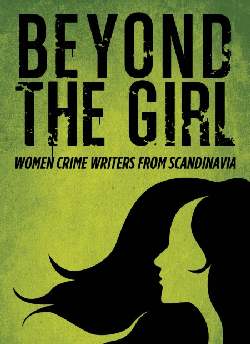 staying home was  the right call. According to Helene Tursten, a lot of Scandinavian authors were coughing and sneezing after mingling with 100,000 people at the Gothenburg Book Fair. (Helene was recovering from a cold, herself.)
Though we were sorry to miss Kristina, we had a wonderful time with Helene Tursten and her husband, Lene Kaaberbol, Agnete Friis, and scholar Kerstin Bergman of Lund University. They visited several classes (a creative writing class, a first term seminar, a gender, women's, and sexuality studies colloquium, and a class on Scandinavian life and culture). Kerstin gave a fascinating lecture on the rise of women's crime fiction in Sweden, she and the authors held a great panel discussion for the St. Peter community. On their final day, the authors mingled with members of our library friends group at a wine-and-cheese reception and then gave another wonderful panel discussion at the American Swedish Institute in Minneapolis. The turnout for each public event was terrific. I'm so glad we were able to do this, as there is clearly a lot of interest.
So here are few of my random notes from the classes and events.
Getting Started in the Crime Fiction Genre
Helene Tursten, who has a lovely Lauren Bacall voice (though perhaps her cold played a role in that), told us that she became a writer after working as a nurse and then a dentist. (She met her husband in dental school. He had previously worked as a policeman. How very handy! Though he told me it was not as interesting as being a dentist.) Because she came down with a serious illness, she had to abandon her work as a dentist and, after writing some articles and translating medical articles into Swedish, she got an intriguing idea for a story, and decided to turn her hand to fiction. She also was motivated to write about a woman police detective, and particularly about the kinds of women officers she knew – women who saw awful things on the job, but managed nevertheless to have normal, happy lives. Her stories are hardboiled, but her  protagonist is not as dysfunctional and depressive as many male fictional detectives. She's a strong person and a very good detective.
Lene Kaaberbol is a very experienced writer, having had her first book accepted by a publisher when she was only 14 years old. Her publisher read a second manuscript and accepted it, too – on the condition that she rewrite the first book. That was not something a 14-ear-old in a hurry was happy to hear, but he reasoned "I've read your second book; you're getting better. You owe it to yourself to make your first book as good as it can be." As she told our students, "I became a writer when I rewrote my first book" (which, given how often we ask them to revise their papers, is an excellent message to hear). She had published dozens of books – children's books, fantasy, and YA, before she started a life of crime fiction. She didn't decide to write in this genre and then come up with a story – she was chosen by the story, or rather "attacked by an image," as she put it, the image of a boy in a suitcase, unconscious and folded up like a shirt. Clearly, it wasn't suitable material for a children's book. Because she hadn't written in the genre before, she asked a fellow writer to collaborate on the story.
Agnete Friis – who also hadn't written any crime fiction – hasn't been writing for as long as Lene, and though she was an experienced journalist who had published some children's books, she was a bit intimidated about joining forces with a well-known author. But though the two women make a running joke out of their differences of opinion, they clearly have the right chemistry to work together, and it has been a fruitful collaboration that was fascinating to hear about.
The Writing Process
Helene Tursten has published ten books in the Irene Huss series (a fifth will soon be available in English translation) and has been involved in a dozen television adaptations. Her process is fairly straightforward for the books. She gets an idea, figures out the beginning and the end, and then writes a book she would like to read. She does a lot of research, only a small portion of which ends up on the page. But the research gives her an immersion in the world of the story. She writes for herself, in part because she can't worry about pleasing the audience, given she is published in so many countries. Writing for film is a bit more complicated, but something she has enjoyed thoroughly. She
comes up with the story ideas then works with a lot of people, including a scriptwriter, the director, producers, a whole team. The amount of time allowed for telling the story is also a constraint that is much stricter than when writing a novel-length story. She agreed with me that the actress, Angela Kovaks, does a great job portraying Irene Huss.
The process Lene and Agnete use to collaborate is fascinating, and very different than their personal writing processes. They map out the story ahead of time, writing character studies and developing a detailed storyboard. They do a lot of research, including traveling to see the places where things happen (so far, stories taking them to Lithuania, Hungary, and the Ukraine) to absorb the sights and smells and sounds of the places they will write about. In once case (for Invisible Murder) they were a bit worried that their story might over-emphasize prejudice against the Roma, but almost immediately encountered someone who had an experience almost exactly like the one they had invented. (Having read the book, that makes me sad!) They advised young writers that it's worthwhile asking strangers for help with research, however intimidating that may feel. It's best to prepare specific questions and scenarios that the specialists can comment on. Surprisingly, people almost always are happy to help. 

When they are ready to start writing, they have already gotten to know the characters and their voices so well that it isn't hard for them to blend their writing together. It's actually a great kind of discipline to talk through a book before it is written, far more intense than working with an editor after the fact. It forces them to pay attention to characters' language and the ways they will experience their part of the story. Once it's all worked out, they choose which chapters they want to write, and work in whatever order they like. Because of all the advance work, they find the pieces fit together smoothly. Amazing.
Themes and Issues 
We had a terrific three hours with the Gender, Women's and Sexuality Studies colloquium (with a lively detour as we discussed the significance of Lisbeth Salander's boob job) but I didn't take any notes and can't say much more than what readers of Tursten and Kaaberbol/Friis already know – that they use their novels to explore social issues and the effect that crime and injustice have on individuals and communities. We also talked about what these stories say about contemporary Scandinavia, including the profound effect that the opening of Eastern Europe has had on countries that for centuries had a shared history (particularly in the case of the Baltic countries), but which had then been separated and isolated for many years, and after taking such different social and economic paths were suddenly
slammed back together again. That culture shock has had all kinds of effects, but it was also clear that both Denmark and Sweden are mostly well-functioning, democratic, and all around good places to live. Apparently, though, Denmark scores better than Sweden on the happiness index!
Kerstin Bergman on Swedish women writers 
Sadly, my notes on Kerstin's lecture are really awful – bits and pieces of sentences, nothing terribly coherent. So let me just recap her topic and put together what I can recall based on my scribbles.
Her title was "The Women Strike Back: The Rise of Women Crime Writers in Sweden, 1997-2012" and she outlined developments from the pioneering status of Helene Tursten's popular police procedurals and Liza Marklund's intrepid journalist, Annika Bengtzon, to the present time. She sketched out trends, including the development of  series with strong domestic themes in picturesque rural settings (including Mari Jungstedt's series and especially the extremely popular series by Camilla Lackberg – "anyone who doesn't like children is likely to be the villain"), the writers who create psychological studies and focus on individuals going through a crisis (Inger Frimansson and Karin Alvtegen were mentioned particularly), and Kerstin Eckman, who has written a number of mysteries before gaining critical praise for other kinds of novels, earning a literary reputation that sets her apart.
Though women have made varied and significant contributions to the genre, there has been a tendency to lump them together and trivialize them as "queens of crime" rather than take them individually on their own merits.
A newer generation of women writers have created a strong place for women in Swedish crime fiction and have also established a world presence for Swedish women crime writers. The earlier writers gave us strong women protagonists who wrestled with the problems of establishing a work/life balance. More recently, protagonists of the newer women writers are generally more lonely and tormented than in the past. (Kerstin mentioned that Liza Marklund's heroine is joining this trend, leaving her domestic scenes behind in more recent books, becoming more isolated and eccentric.)
Writers she highlighted include Asa Larsson, whose series features two strong women characters who are in many ways opposites, creating interesting contrasts and questioning expectations about how women should behave. The natural world is important to Larsson, and her works are extremely well-written. The female protagonists in the works of Carin Gerhardsen, Kristina Ohlsson, and the writing team of Grebe and Traff all depart from normative family situations. In The Gingerbread House, Gerhardsen's female police officer protagonist is drugged and raped and a thread of the first book in the series involves her trying to independently build a case against her assailant while another criminal attacks women with increasing violence. Her second novel is particularly interesting, according to Kerstin, from a feminist perspective. Kristina Ohlsson's female lead in a procedural ensemble has a relationship with a much older married man, having to sort out her desire to become a mother without a marriage, and Grebe and Traff's lead character is a psychologically scarred therapist, whose interactions with patients provide a parallel exploration of psychological trauma.
Kerstin mentioned several writers whose works I would love to read in translation, particularly Aino Trosell, whose crime novels (one of which was awarded the prize for best Swedish crime novel in 2000) feature working-class characters in gritty situations. It sounds as if she carries on the Sjowall and Wahloo tradition of social critique. She also mentioned Asa Nilsonne, a professor of psychological medicine at the Karolinska Institute who has written several crime novels, and Katarina Wennstam, whose work has feminist themes exploring violence and intolerance.
We had a lively Q&A following the lecture, and I'm happy to report that Kerstin is working on a book about Swedish crime fiction. You can see more about her scholarship, which is amazingly prolific, at her Lund University profile.
Before I put my messy notes away, I should thank my colleagues in the library and in the Scandinavian Studies department, including particularly Kjerstin Moody, Glenn Kranking, Jeannie Peterson and Jenny Tollefson; the faculty members who opened their classes to our guests, the Embassy of Sweden which supported the program, Sisters in Crime, and the American Swedish Institute, which not only provided the space for our Minneapolis events, but gave us a tour of the mansion, which has its own mysterious stories to tell.